This article explains the basics of the Discord application and its uses in esports. At the bottom of this article is a template server anyone can use to become more familiar with the platform.
Why Discord?
Discord gives you the power to create your own space to share with your students. Topic-based text channels give you an organized way to discuss any and all important topics regarding your esports program. Dedicated voice channels act as your server's "lounge areas", designed so anyone can pop in and out of voice and video conversations with ease. To create an account, all you need is an email and a name.
What is a server?
Discord gives you the power to create an invite-only home for your school's esports program - a place where you and students can communicate, hang out, schedule practice times, and much more. We call these special places servers (see image below).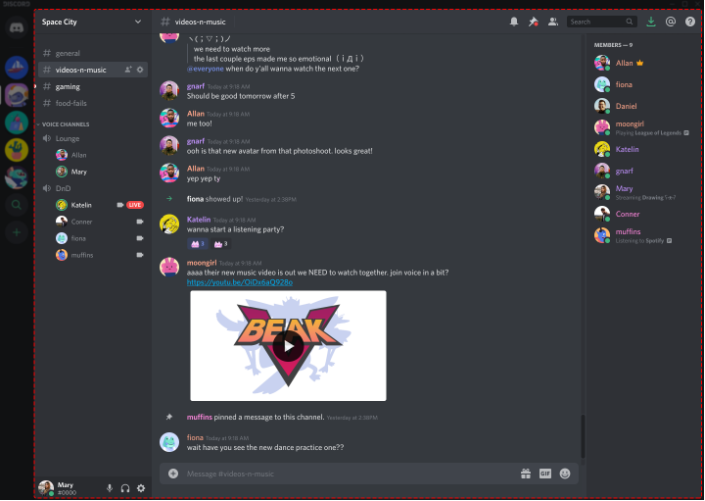 You can create a server by first installing Discord onto your computer or mobile device, opening up the application, and selecting "add server" on the left-hand side of the window. Choose the "gaming" template, then select the "club or community" option. All that remains is to give it a name and invite your students.
Using text & voice channels
Your server is made up of text channels and voice channels.
Text channels are separate spaces for talking over text. Create separate channels for each game your program is competing in to keep the discussion organized and on-topic.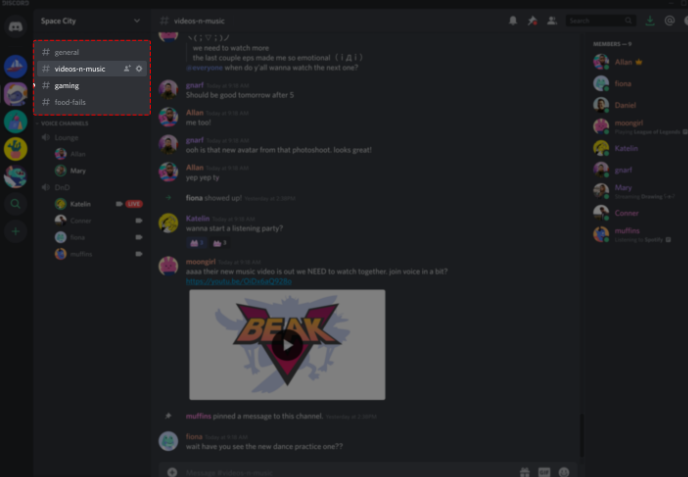 Voice channels are where you can communicate over voice and video. Simply click on a voice channel to enter it. Other members on your server can see you're in there and have the ability to join as well. You also can share your screen. More information on this can be found further down.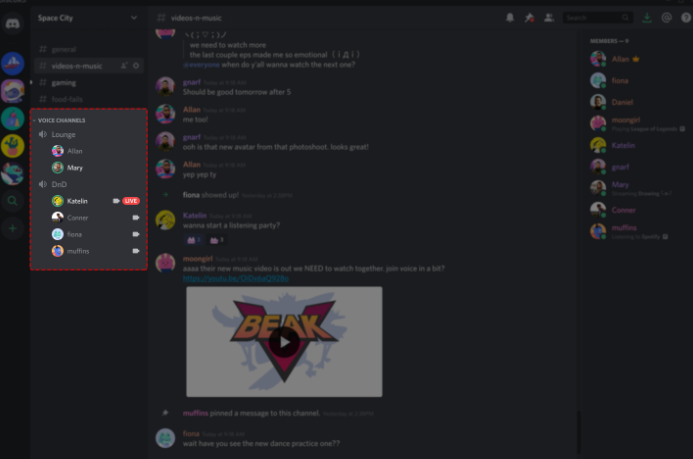 How to use voice chat
Click the "speaker icon" to join a voice channel in your server
You should see a green outline around your avatar when you speak.
If you need to adjust your voice settings, click the "cog icon" to open User Settings. On PC/Mac, this will be in the lower left-hand corner of the discord window. From here, head to "voice & video" settings to adjust audio input, sensitivity, and more.
Bonus Tip #1: You can adjust the volume of other individuals in a voice channel by right-clicking their avatar (desktop) or pressing their name (mobile). Then simply drag the volume slider to the desired level.
Bonus Tip #2: If there is too much background noise, Discord has a Krisp Noise Suppression feature. This can be activated by clicking the Krisp icon in the lower left of the voice panel.
How to use video chat
Click the "speaker icon" to join a voice channel in your server.
Press the Video button in the bottom left corner and your video will be added to the voice channel. If you navigate away from the channel, just click it again to bring it up.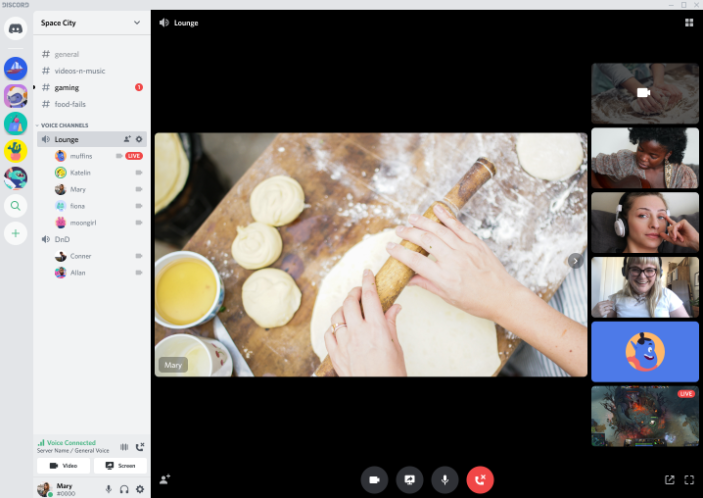 To change your input device, click the "cog icon" to open your User Settings. On PC/Mac, you'll find it in the lower-left corner of your server. From "user settings", head to "voice & video" settings to update your input and output devices.
How to share a screen
Click the "speaker icon" to join a voice channel in your server.
Press the "screen icon" in the voice status panel near the bottom left corner and a new window will pop out.
Select an individual application window to share, or select an entire screen to share.
Press the "go live" button at the bottom of the window when you are ready to share your stream.
How to join & watch a stream or screen share
Look for any people with the "live icon" within a voice channel.
Click on the username of the broadcaster with the "live icon" to automatically join the stream.
Once you've joined, you can change the size and location of your viewing window. You can also control the stream's audio from the volume icon while hovering over the stream.
The HSEL Discord
The High School Esports League hosts its own Discord server. This is where we can quickly share important announcements, communicate via text channels or direct message with our competition base, host channels for each of our offered games, and much more! You can join our server to get an idea of what a running Discord server looks like.
Template server for your use
We have created a template that you can use to create a server for your teams. You can use the template by clicking this link: https://discord.new/86Ggxe8qkWsM. This template already has multiple roles including Student, Team Captain, and Teacher with channels locked behind certain roles. We have also made sure that all of the settings will provide the best security for your server such as only allowing Teachers to invite people to the server and scanning any file that is sent in the server.
We recommend that you use this template to also explore the different aspects of managing a server, such as making new channels, roles, and adding bots! Check out the next section for some articles on these topics.
Check out these articles for more in-depth tips & tools regarding managing your server